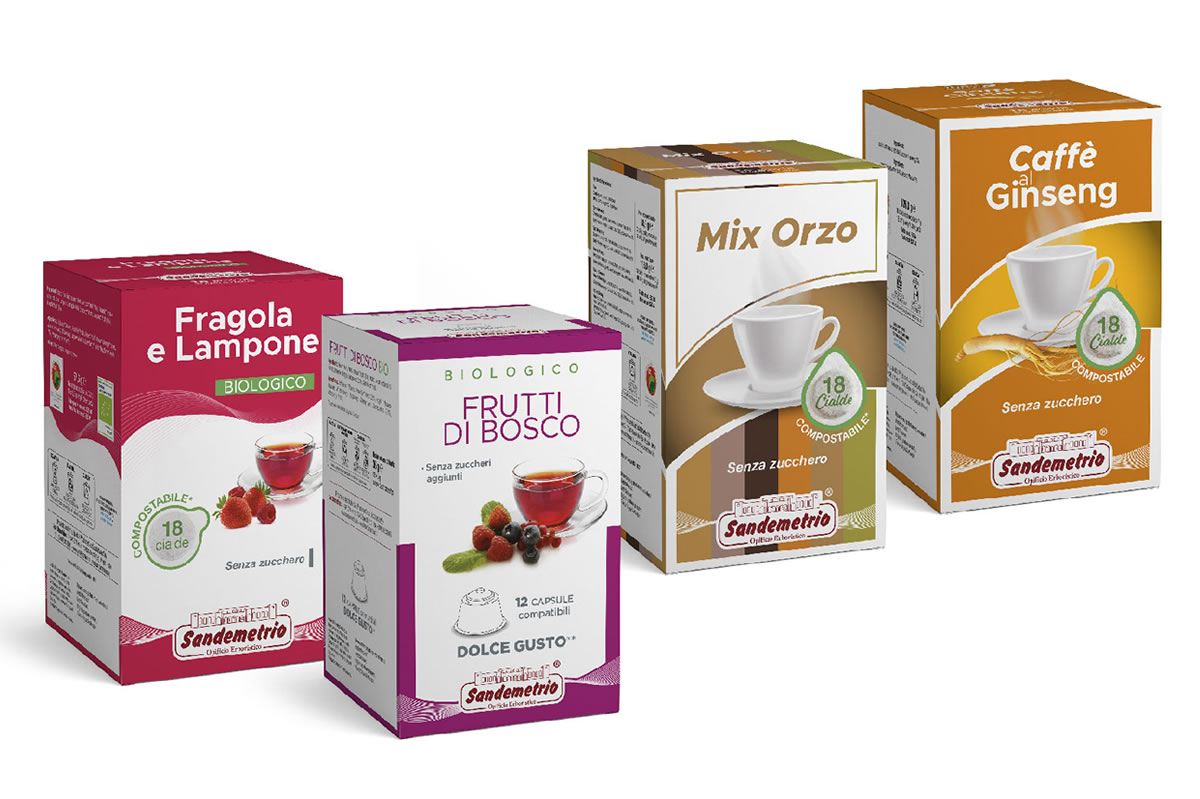 Coffee, teas and infusions in Sandemetrio pods: a sustainable choice
Sandemetrio branded, single-dose pods are simple to use, and guarantee a portioned product of the highest quality.
The ingredients encapsulated in the coffee, tea and infusion pods have just the same freshness and fragrance as when they were packaged, marking a clear difference in quality with respect to other brands on the market.
Thanks to the barrier effect of the pods, the raw ingredients are protected from gases, humidity, light, and all other potentially damaging agents.
In Sandemetrio's pod packaging department, we constantly research, develop and invest in increasingly advanced machinery to ensure that none of the taste and fragrance qualities of the raw ingredients are lost. The result is a high quality, fragrant, long-lasting product.
Sandemetrio also produces ESE 44 pods that can be customized in terms of blend, packaging and branding, so that distributors can offer their customers a superior quality beverage and customer experience.
Last but not least, Sandemetrio pods are an environmentally sustainable choice. All Sandemetrio pod products are, in fact, compostable, biodegradable and disposable with wet waste.
Sandemetrio offers a wide range of infusions, teas and herbal teas in ESE 44 PODS
FRUIT INFUSIONS
PEACH: A refreshing, mineralizing herbal tea with dog rose, apple, hibiscus, natural orange and peach flavourings and orange peel. Delicate aroma.
STRAWBERRY & RASPBERRY: A diuretic, purifying and refreshing herbal tea with hibiscus, dog rose, apple, orange peel, elderberry and natural strawberry and raspberry flavourings. Full-bodied and aromatic.
FOREST FRUITS: A refreshing herbal tea with hibiscus, dog rose, apple, elderberry, blueberry, raspberry, cherry and blackcurrant. Full-bodied and aromatic.
GINGER & LEMON: A special infusion of ginger and lemon. Since ancient times, ginger has been appreciated for its ability to relieve nausea, energize the body and mind, and ease digestion.
CINNAMON & ORANGE: A blend of fine herbs enriched by the enveloping aroma of cinnamon and orange. It can be drunk any time of the day, hot or cold.
MEDICINAL HERBAL TEAS
CHAMOMILE: Chamomile is rich in flavonoids and antioxidants, has excellent emollient and soothing properties for the digestive system, and is extremely good for relaxation and mental well-being.
GOODNIGHT: A blend of medicinal herbs and ingredients, including passionflower, chamomile, orange, hawthorn, verbena, peppermint, blackberry, lavender and valerian. Taken regularly it can help you to have a peaceful, restful sleep.
DIGESTIVE: A blend of medicinal herbs and ingredients, including fennel, peppermint, liquorice, green anise and rhubarb, ideal after meals for its digestive effects.
FENNEL: Fennel is an ally of the digestive system, facilitating digestion and the elimination of intestinal gas. With an intensely pleasant aroma.
FLAT TUMMY: A blend of precious herbs encapsulating taste and well-being. Can be drunk either hot or cold.
FINE TEAS
LEMON BLACK TEA: A black tea blend rich in flavonoids and substances with well-known antioxidant action. A natural lemon aroma gives the infusion a refreshing flavour.
GREEN TEA: Green tea is unoxidized and, for this reason, maintains its characteristic green colour. Rich in flavonoids and antioxidants.
TURMERIC, LEMON & HONEY FLAVOURED GREEN TEA: A precious blend of green tea, turmeric, lemon and honey. Turmeric is a wonder spice, with excellent antioxidant and digestive properties. Lemon and honey bring flavour and pleasure to the palate, and enhance the beneficial properties of this tea.
COFFEES
BARLEY COFFEE SUBSTITUTE: Barley is a very nutritious food, and is the best known substitute for coffee. Known for its numerous beneficial properties, barley has an emollient, soothing effect on the digestive system, and is an excellent tonic. It can be an allergen for some people, as it contains gluten.
COFFEE WITH GINSENG: The pleasant taste of coffee combined with the natural aroma of ginseng, famous for its adaptogenic properties, make this coffee especially useful for helping the body cope with stress.